I wish I was one of those awesome people who is so focused they just keep on truckin' knowing exactly what they are destined to do.  But in the immortal words of SNL's Drunk Uncle, "That's not me".  So, I'm figuring it out as I go along. Here's what I've got so far.
Continuing to innovate on The UpCycle Eco-Charger electric bicycle generator (and DIY kit).
Working with SportsArt to sell their new line of grid-tied, plug-and-play, high-end Ellipticals, Upright and Recumbent bikes (and soon – Spin Bikes!).
Creating a step by step guide showing how I started up two Green Microgyms, got them cash-flow positive on 5 hours of work a week, and sold them for a profit.
1. I've been working on the UpCycle Eco-Charger for over a year now, and it continues to sell!
Mostly, I'm getting orders from either 1) idealistic people like me who own electric cars, are trying to live as green as possible, or want to make a difference in the world in a million small ways; or 2) schools that are looking to educate their students on energy, conservation, fitness, etc.
As I've been building and shipping Eco-Chargers, I've been innovating on the product a bit and have come up with some pretty cool versions like:
A custom Chopper bike with a headlight that glows when you pedal:
A neighbor of mine goes to vintage bike swap meets (gotta love Portland). He found an old frame from the 1930's, added a bunch of other components, and created this all-black low rider. It's pretty awesome because not only does it look great, but with the banana seat, my 4 year old boy is big enough to pedal it, and I can also hop on it and pedal without adjusting anything. I'm looking for a bar or some other hip place to park it. Let me know if you want this unique piece of art.
Educational Eco-Chargers for Kids: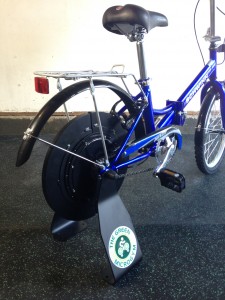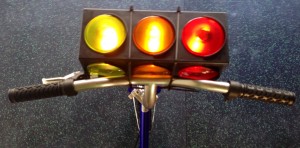 An elementary school in Virginia purchased 4 custom Eco-Charger setups.  They didn't want to grid-tie. They just wanted to have something interactive, so I found some replica traffic signals and retrofitted them with lights that glow brighter the faster you pedal.  At some point, I'll figure out how to make the lights glow one at a time, but for now they just all glow together.  I found a Schwinn single speed folding bike that has a seat that adjusts enough that someone as short as 4 feet can pedal on it, and much taller people can also use it.  It's perfect for an interactive fitness room for an elementary or middle school.  I look forward to seeing some kid-produced videos of them in action someday.
A Custom Sized Personal Performance Eco-Charger: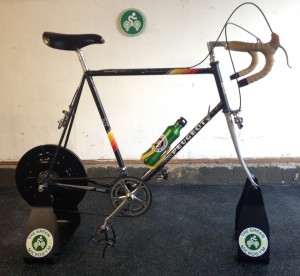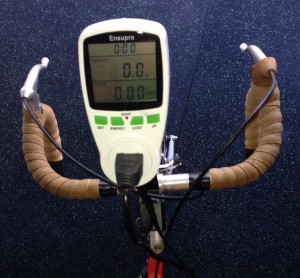 For the person who really wants to get fantastic workouts just as much as they want to put power back into their home, I can now recycle an old bike frame based on the buyer's size, add a front stability stand, a seat that adjusts forward, back, up and down (so it feels a lot like a spin bike), and a handlebar mounted watt-meter to track workout time, watts, and accumulated watt hours. Creating that puddle of sweat underneath the bike AND knowing my effort helped run the lights for awhile never gets old.
The DIY Kit:
I've settled on a matte black finish for the DIY kit, and have sold a few of them.  I know there are many people who want to use the Eco-Charger to charge batteries and live off-grid, and this works great to get up to 40 volts of DC electricity.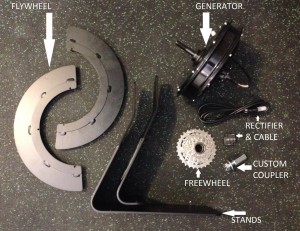 I'm working with a local solar company to make an off-grid solar-panel+battery+Eco-Charger package that will not only last a long time, but also provide the proper resistance levels to get a nice workout while charging batteries. This is a challenge and I don't have a timeline for completion, but I'm looking forward to finding a legitimate solution that I can feel good about selling.
2. I am now selling SportsArt's EcoPowr exercise equipment.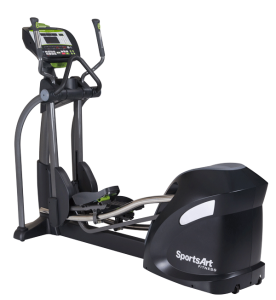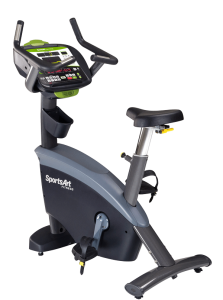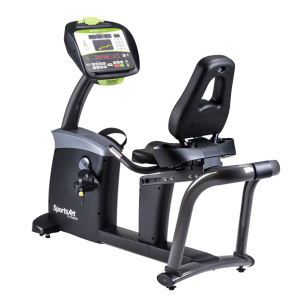 This has been a long time coming, both the existence of the exact equipment I dreamed of back in 2007 when I started this business, but also the mutually beneficial relationship with SportsArt. It's a long story, but the bottom line is SportsArt has come out with production quality, fully warrantied, UL listed GREEN fitness equipment!  You just plug it into the wall and start generating electricity!  I have used their energy saving treadmills in my gyms since the beginning, and they have held up nicely.  These new products just came on the market.  If I wouldn't have sold my gyms, these pieces would be in them now.
SportsArt is a worldwide exercise equipment company, but is not well known in the USA, so it's been tough for them to get traction, and I feel like I can help them sell their equipment to not only green gyms, but also to individuals and innovative companies that like the idea of being on the cutting edge, but don't like the idea of ordering a DIY kit from some dude who puts them together in his garage.
I've tested all of the equipment and it's really solid and smooth.  It's also built to last and withstand the rigors of a high traffic club.  The future is here.  Now, it's just a matter of getting the word out.
If you're interested in getting prices, Join my Email List to get a price list. (SportsArt doesn't want me to advertise prices online, so this is the easiest way to get them to you. Feel free to unsubscribe once you get the price list.)
3. At some point, I'm going to document how I successfully came full circle with The Green Microgym.
Owning your own business is no picnic.  There's a reason most new businesses fail – it's just flat out hard!  I know that I took the hard road and I think I can probably help some people avoid some of the mistakes I made and become successful a bit faster than I did.  I've started answering some common questions and talking about my experiences through a podcast, and in the coming months, I plan on writing down what I would do now if I were starting up a Green Gym.  I'll be sharing spreadsheets, legal documents, step-by-step plans, and anything else I think might help someone get up and running quickly, be cash-flow positive, and sell for a profit down the road.
For example, I'll talk about:
Getting a minimum of 100 members signed up before opening the doors
Finding affordable locations
Getting the right equipment
Getting cashflow break-even ASAP
Running the gym and all aspects of the business without help on 5 hours a week
Selling for a profit, sooner than later
I know there are many, many people (because I hear from them weekly) who are very interested in making the world a better place through Eco-Fitness.  Now that the equipment is here, I believe I can help create the roadmap.
So, that's what is next for me (at least I think it is).  I've really learned a lot about business, fitness, and people since opening The Green Microgyms, and I look forward to taking that learning and putting it to good use so I can continue to provide for my family, have fun, and make the world a better place little by little.