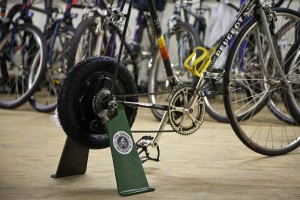 Now Taking Deposits for the First 10 UpCycle Eco-Chargers!
Be the First on Your Block…
The first UpCycle Eco-Chargers will look a lot like the pictures here, but more refined.  They will fit most bikes, but we want to make sure it will work with yours before sending them out, so if you order one of the first 10, here is how it will work:
You pay a 50% deposit to insure you get one of the first 10
I will contact you to determine what type of bike you will be using with the UpCycle Eco-Charger
I will create your UpCycle Eco-Charger to fit your particular bike in about 6 weeks
Once you have paid the final 50% and shipping, I will send you your UpCycle Eco-Charger
Once you get your UpCycle Eco-Charger, we will have a Google+hangout session to make sure everything is hooked up properly
If for some reason it doesn't work with your bike, I will refund your money and pay to ship the UpCycle Eco-Charger back
The cost of our Beta Version will be $750 plus shipping, enough to cover my costs to purchase components and assemble them.  I anticipate the normal retail cost to be somewhere around $1000 to $1250, so you will be saving a few hundred dollars. 
Make your deposit
The Story of the UpCycle Eco-Charger
The UpCycle Eco-Charger makes turning your own bicycle into a human power generator as easy as replacing your back wheel! You can plug it into a normal wall outlet and help power your building.  And, maybe more importantly, when the power goes out, you can charge a 12 volt power pack that can keep your phone and laptop computer going, and even boil water.
The Green Microgym and Plugout Technology were invented by Adam Boesel, a school teacher turned personal trainer who started up his first gym in Portland, Oregon in 2008.
Adam and his gym have been featured by CNN, BBC, Entrepreneur Magazine, Fitness Magazine, Club Industry and Club Solutions Magazines, Popular Science, and countless green bloggers.
After Hurricane Sandy, he was contacted by the New York City Mayor's office to explore ways to help people without power for long periods of time to have the ability to at least charge their cell phones.
Adam realized it was time to complete a product he'd been thinking about, but putting off  because it didn't make sense to have in a gym: A pedal generator that could be used with most bicycles.
Why The Upcycle Eco Charger is Awesome:
Security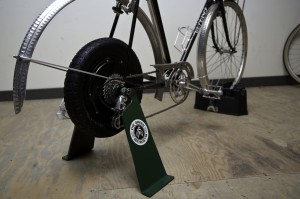 In a prolonged power outage, you will be able to keep your phone charged, work on a laptop, and boil water without having to put gas in a generator or borrow electricity from someone else.
Smooth Ride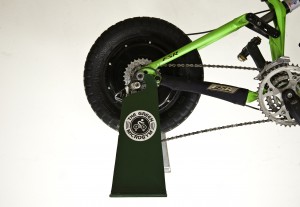 As a personal trainer and gym owner, Adam knows you'll never use it if it doesn't come as close as possible to simulating riding your bicycle outdoors. In stark contrast to all other pedal generators on the market, the Upcycle Eco Charger doesn't have a herky jerky feel caused by the added resistance the generator creates.  Adam has added a custom designed flywheel around the outside of the generator.
Convenience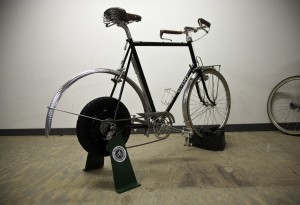 By plugging into the wall and sending electricity back to the grid, you don't have to hassle with a battery, except when it's needed in an emergency situation.  If your power does go out, it's as simple as plugging the UpCycle Eco-Charger into the 12 volt cigarette lighter input on a battery pack.
Stability
With its custom bike stand, the UpCycle Eco-Charger is very, very stable. Adam's 70 year old mother-in-law said it felt completely sturdy and safe when she tried out an early prototype and very easily generated enough watts (30) to power a laptop, or 3 ipads, or 6 smartphones.
Efficiency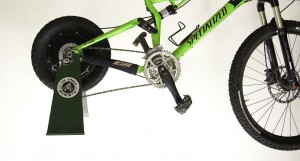 Since the generator is attached to the chain of your bike, the maximum available amount of energy from your legs is transformed into electricity, with the minimum amount of loss compared to other pedal generators (most commonly using the rear bicycle wheel pressing onto the generator) that use other means of connecting to your bike.  By "plugging out" (90% efficient) instead of charging a battery (which loses about 40% efficiency), you are able to generate nearly twice the amount of usable electricity.
Simplicity
With a minimum of parts used, there is less to break down and wear out.
Two Versions Available:
| | | |
| --- | --- | --- |
| | DIY | FULL |
| Super Stable Stand | X | X |
| Grid Tied Using Plugout Technology | X | X |
| Battery Pack Attachment |  X | X |
| Painted and Sealed | | X |
| Flywheel Added on For Ultra Smooth Ride | | X |
| Watts Being Generated Display | |  X |
Upcycle Eco-Charger vs Other Pedal Generators
| | | | | | |
| --- | --- | --- | --- | --- | --- |
| Brand | Stabilty | Connection to Generator | Efficiency | Grid Tied |   |
| Upcycle Eco-Charger | Outstanding | Direct from Bike Chain | Outstanding | Yes, via Plugout Technology |   |
| Pedal Power Generator | Good | Wheel presses onto generator | OK | No |   |
| MNS Bicycle Generator Kit | Not Good | Belt and Pulley attached to a bicycle rim with the tire removed | OK | No |   |
| Pedal-a-Watt | Not Good | Wheel presses onto generator | Not Good | Yes |   |
| Windstream Power Bike Pedal Generator | Not Good | Wheel presses onto generator | Not Good | No |   |
The UpCycle Eco-Charger is Coming Soon!
To be notified when the UpCycle Eco-Charger is ready to go, enter your email address: