THE PROBLEM:

The green building industry has forgotten its fitness rooms. Developers and managers of LEED buildings need to change quickly.
If you don't take initiative to lead in greening your fitness facilities, it will end up costing you credibility and money to catch up.
Fortunately, there are immediate solutions available.
The Main Reasons Fitness Facilities are Not Green:
Traditional cardio machines waste energy.

Inefficient screens are used inefficiently.

Towel service is unnecessary at best, and very wasteful at worst.

Plastic water bottles are still available.
LET'S TALK. Call (503) 933-2230
Call us right now while it's on your mind. There are a lot of myths and misconceptions about green fitness easily answered with a 15 minute call.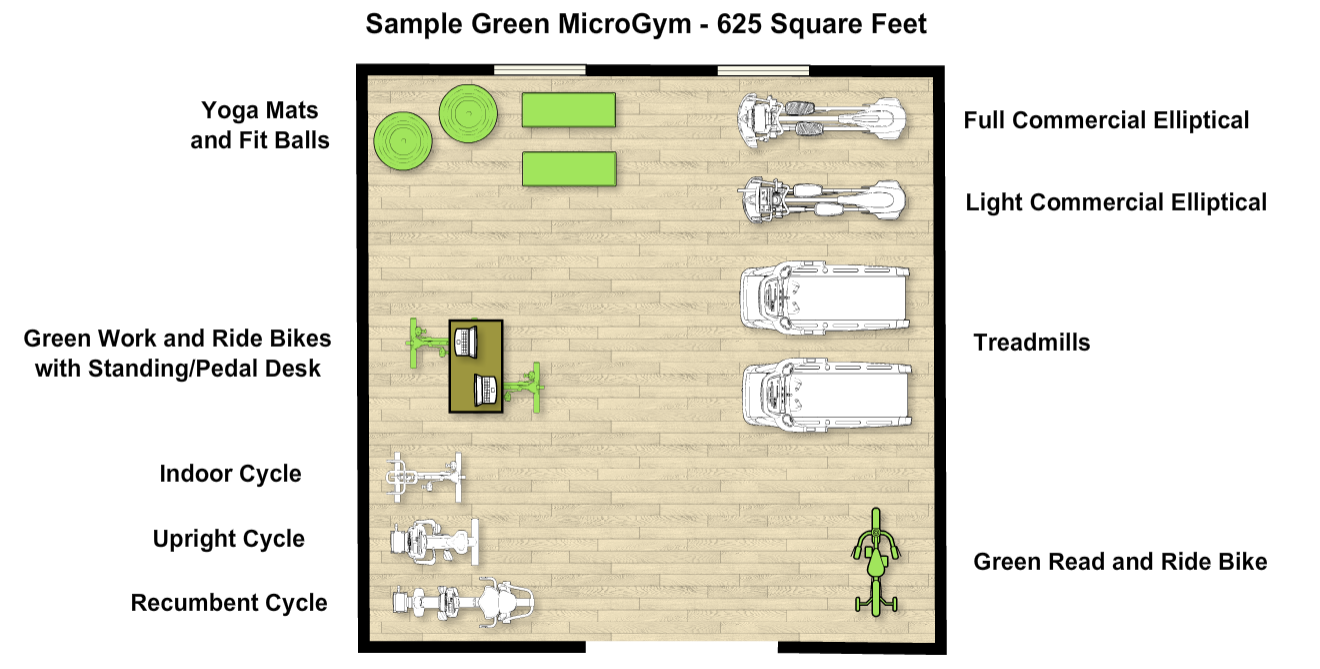 625 Square Foot Green Microgym
The most popular machines and our most cutting edge equipment creates an Eco-Fitness experience from day one.
1 Adjustable Standing Desk
2 Yoga Mats and Fit Balls
2 Suspension Trainers
2 Resistance Band Sets
6 Large Posters
1 Day of Training for Staff
$47525 $35,394 (shipping included)
Turn your boring traditional fitness room into an Eco-Fitness experience with one of our basic packages.
Customizations available
Financing available (3rd party lease to own)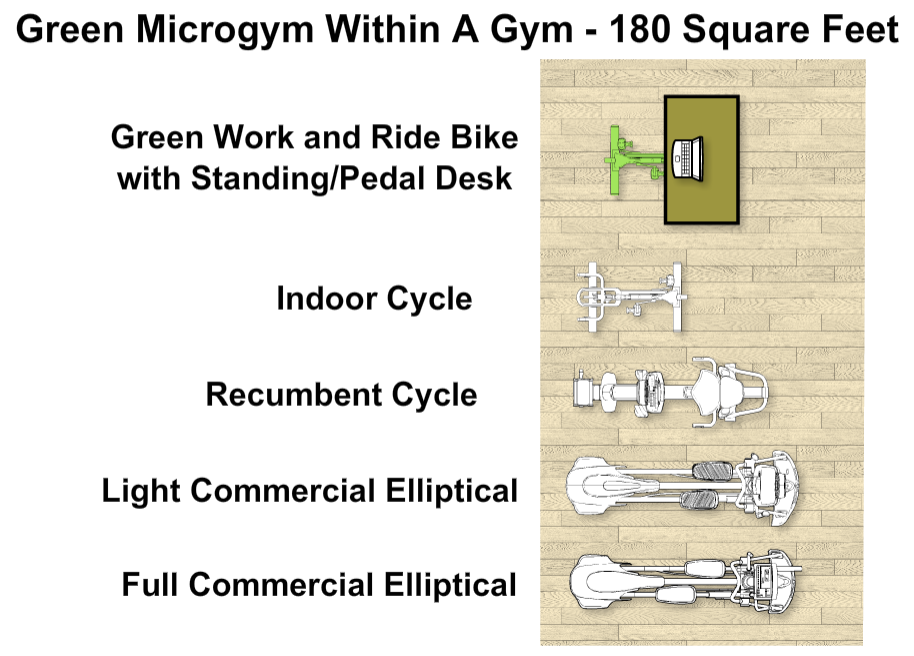 180 Square Foot Green Microgym Within A Gym
Create a green space within your current gym to ease into Eco-Fitness.
1 Adjustable Standing Desk
6 Large Posters
1 Day of Training for Staff
$26,100 $19,829 (shipping included)
#1 – Machines Waste Electricity
Energy efficient appliances should use as little electricity as possible to run, and should not waste electricity, especially when they're off or in standby mode. But fitness equipment in gyms, and the way they are used, does the opposite. Walk into any gym, and you will find all of the machine consoles are lit up, even if nobody is using them. This standby mode can use up to 25 watts per machine. In addition, these machines waste the energy that people put out when they exercise, when it can and should be reused as electricity.
The two ways fitness machines waste electricity:
Always-on "plugged in" machines that have tv screens installed:
20 watts in standby mode is normal for every machine.

Tvs installed on the machines use about 40 watts, which is not very efficient for the size of the screen.
Tvs on machines are obsolete, since most people use a smartphone or tablet to watch tv when working out.
Excess energy created by the user is diverted to heat sink:
A hot-dog size/shape resistor inside the housing converts extra energy to heat.

50-150 watts that could be reused as electricity just heat up the air in the room.
What about "Self Generating" machines? Some machines in gyms are self-generating, meaning they take some human energy to charge an internal battery that runs the console. This is better, but they still convert excess human energy to heat. There is a better solution.
#2 – Inefficient Screens are Used Inefficiently
TVs on the wall are commonly always on, even if nobody is watching them.
TVs on machines are common in high-end fitness facilities.
TVs in fitness rooms have become obsolete with the advent of smartphones and tablets.
To create a sense of luxury, many gyms have several large televisions on the walls. They are usually always on. When I was an employee at a gym, part of our opening procedure was to turn all the tvs on, and closing was to turn them all off. For 20 hours a day, every TV was on whether anyone was watching or not.
Aside from the obvious waste this represents, most people use smartphones and tablets to watch tv when in the gym these days. Why watch a 150 watt public large screen tv when you can watch an 8-10 watt private one?
In recent years, TVs on machines have become a symbol of luxury in high end fitness facilities. These extra tvs cost $2000-$3000 more per machine, and are not energy efficient. They can use 20 watts in standby mode and 40 watts when on for a 15-20 inch screen. In any other instance, these monitors would be considered wasteful.
#3 – Towel Service is Unnecessary at Best, and Very Wasteful at Worst
UCLA is shutting down towel service at their gyms: http://dailybruin.com/2016/05/17/towel-service-to-fold-at-wooden-center-in-fall-2016/
I predict all fitness facilities in California and other areas with limited water will be penalized for having towel service in the future. If it's happening at UCLA, it will happen soon in many other universities.
There was a state mandate to cut water usage.

From the article: "the change is part of a campuswide effort to reduce the number of potable gallons of water used per capita by 36 percent by 2025. The reduction of towel usage is projected to save about 400,000 gallons of water annually."
Rich Mylin, director of recreation sports venues and event operations, said students, faculty and staff will have to bring their own towels.

This news came as a surprise and was not well received by gym goers. It's an example where a gym "took away" an amenity, angering the members.
If they had a more aggressive sustainability focus in their gyms, this change could have been seen as a positive.
This is a situation that can be embraced by gym goers if the gyms have a strong sustainability focus in their facilities. If not, people will complain that a "perk" has been taken away. There is nothing a gym owner fears more than complaints like these.
THE SOLUTION:

Electricity Generating, Grid Tied Cardio Equipment from SportsArt Fitness
This is NOT about how much electricity humans can generate, and should never be presented as a renewable energy alternative.

An appropriate analogy is you're going from Incandescent to LED light bulbs. Nothing changes with user experience. But you are getting a far more energy efficient product.
#4 – Plastic Water Bottles are Still Available
High end facilities, especially hotels, often offer complementary bottled water in fitness rooms.
This "luxury" is unacceptable today, especially in Green buildings.
Portland Doubletree Inn
The DoubleTree in Portland is considered the first Green hotel in Portland. They have led the way in many behind the scenes sustainability initiatives, and were an early supporter of The Green Microgym. However, their parent company has a longstanding contract with Precor for fitness equipment, and therefore are unable or unwilling to make improvements to their fitness facility.
Machines are always on.

Tv screens are on each machine.

Free sweat towels are available.
Angel of the Winds Casino and Hotel in Arlington, Washington
This new building in Northwest Washington State is making some effort to be green, but they definitely did not think about sustainability when allocating space for their fitness room. I created a short video showing how easy it would be to improve their fitness room.
Machines are always on.

Free plastic water bottles are in the fitness room.

Free sweat towels are available.
Las Vegas Hotel Aria
This hotel boasts a large and very good looking fitness room with tvs on almost every piece of equipment. If they were upgrade to electricity generating fitness equipment and switch from tvs on the machines to stronger wifi and available tablets if necessary, they could save about $100,000 in equipment costs and over $2,000 in annual electricity costs.
LEED Gold Certified

46 cardio pieces, most have a TV screen
If I offered you a new lightbulb that
used almost 1KWH less per day, 
put out the same amount of light,
cost the same,
and lasted longer,
would you buy it?
If the lightbulb also got people talking about how innovative it was, made them feel like they were actively contributing to the overall sustainability of the building, and was proven to make people physically and mentally healthier, would that be great too?
Comparison of 3 Types of Elliptical Machine
(the most popular cardio equipment in gyms today – 95% of people will not notice how these 3 machines are different in terms of user experience)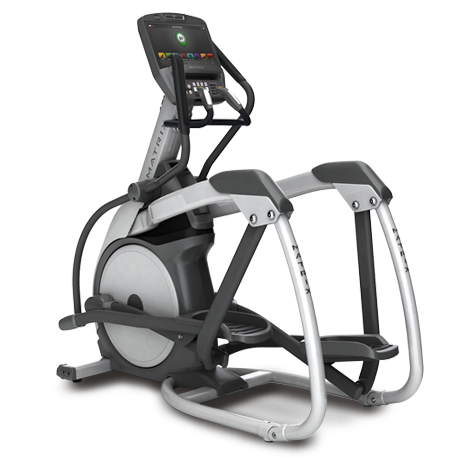 Matrix E7xi
Plugged into the wall with TV screen included
Uses 20 watts in standby mode
Uses 40 watts in use
Excess energy dissipated as heat
MSRP: $10,995
Warranty:
Frame – 7 Years
Parts – 3 Years
Labor – 3 Years
Wearable Items – 1 Year
Watt Hours Wasted (Per 1 Hour Workout at 50 Watts)
Watt Hours Wasted Per Day (4 Workouts + 20 Hours @ 20 Watts Standby Waste)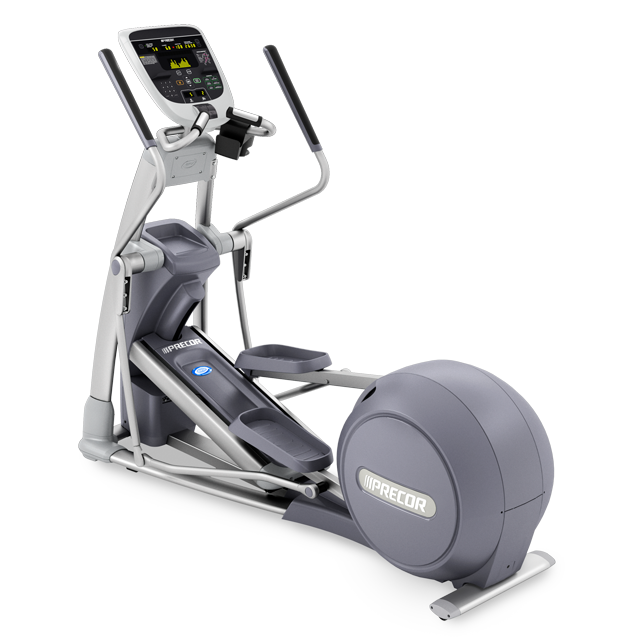 Precor EFX 835
Not plugged in – Self Generating
User movement charges a battery
Battery powers the console
Excess energy dissipated as heat
MSRP: $7,495
Warranty:
Frame – 7 Years
Parts – 2 Years
Labor – 1 Years
Wearable Items – 1 Year
Watt Hours Wasted (Per 1 Hour Workout at 50 Watts)
Watt Hours Wasted Per Day (4 Workouts)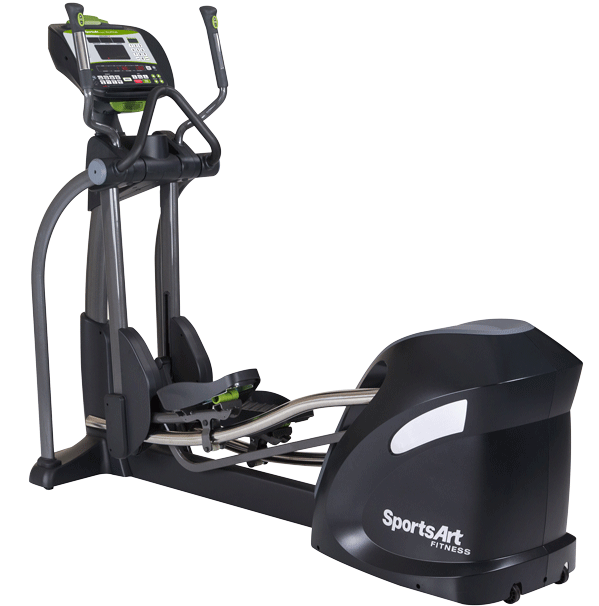 SportsArt G875
Plugged "Out" – electricity goes back into building
Uses no electricity in standby mode
User movement powers the console
Excess energy goes back into the building as electricity
MSRP: $7,395
Warranty:
Frame – Lifetime
Parts – 5 Years
Labor – 3 Years
Wearable Items – 5 Years
Watt Hours Generated (Per 1 Hour Workout at 50 Watts)
Watt Hours Generated Per Day (4 Workouts)
The above comparison assumes 4 hours of use per day, at an average human energy output of 50 watts. Estimated energy usage of the 2nd and 3rd machines is 10 watts to power the console.
Conclusion:
Gyms That Aren't Green Now Might Get Caught
A situation like UCLA had, where they are forced to make immediate changes, could result in negative publicity and perception
Green Fitness Equipment Exists and is Less Wasteful Than Traditional Equipment
Works the Same – same workout and user experience
Costs the Same – or less
Same Installation – no extra connections needed
Same Maintenance – most likely the same technicians
Better Warranty – two to five times longer for most items
SportsArt Fitness is Not a Startup – 

In business for 40 years, so there are no concerns about long term service and support.
This Equipment Can Engage Users In Promoting Your Sustainability Efforts
Incentives for Exercising
Educating Users on other Green Building Practices

The walls of a fitness room are the perfect place to show off behind the scenes green practices

Positive Media Opportunities

The Green Microgym, with no publicity department, has been featured by national media several times
The first several clients who take the baton will enjoy similar free publicity
Negative publicity, like with UCLA, will be avoided
Here's an Easy Way For Hotels To Solve All 4 Problems:
After you have replaced your old exercise equipment with SportsArt, and removed extra sweat towels and plastic water bottles from the fitness facilities, do these 3 things:
1. Supply A Complementary Reusable Water Bottle in Each Room
Only complementary if you use the fitness room to generate electricity

Comes with a reusable (hemp or bamboo) sweat towel (eliminates the negative optics of providing sweat towels in the gym)

2. Provide Incentive of 1 free drink (or other appropriate reward) at Hotel restaurant for each workout.
Redeem drink credit at front desk by posting a photo of yourself making electricity to the hotel's preferred social media page

3. Provide explanation of no TV screens in gym and offer complementary tablet check out at front desk.
Sample Text to Go With Water Bottle:

Our Gym MAKES Electricity! In our ongoing efforts to go green, we now have Cardio Equipment that sends your energy back to the building. Please use this reusable water bottle and bamboo sweat towel when you visit our gym. In appreciation for helping generate a few watts for the building, we are offering:
The water bottle and towel for you to take home if you use the gym
A free drink at our restaurant for every electricity generating workout (1 per day) – just take a selfie of yourself on the machine and post it to our Facebook page. Redeem your drink credit at the front desk.
Sample Text About TVs:
"Why no TVs? – TVs on gym equipment and the walls are very inefficient and are often left on. Even when they are "off", they use up to 20 watts in standby mode. As a Green Hotel, this is unacceptable to us. Also, we notice that most people use their smartphones (5 watts) and tablets (10 watts) as TVs in the gym these days anyway, which is much more efficient. So, we have strengthened our WiFi Signal in the fitness center, and offer tablets for checkout at the front desk."