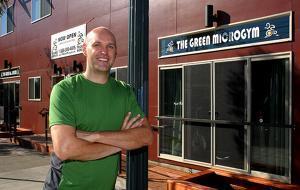 Check Out Adam's Eco-Fitness Podcast Here
The Green Microgym and Plugout Technology were invented by Adam Boesel, a school teacher turned personal trainer who started up his first gym in Portland, Oregon in 2008.  While writing a business plan for his gym, he thought, "Wouldn't it be great if the members could make electricity when they are exercising?" He found that although there was a lot of speculation and experimentation about the idea, no one had started up a gym with Eco Fitness as their central focus.
He assumed finding electricity generating exercise equipment would be relatively easy, so he ordered a Pedal A Watt and came into contact with Mike Tagget from Human Dynamo.  He also had conversations with Rerev, Green Revolution, and SportsArt Fitness. However, at that point, none of those companies were able to provide a clean, affordable way for a small gym to go green.
Out of necessity, Adam started searching for a way to convert exercise machines into power generators and connect them to the grid.  Several prototypes later, and with the support of a lot of patient and supportive members, he designed the first spin bike retrofit that is grid tied by simply plugging "out" into a normal wall outlet. His design made it easy for anyone to convert their energy into electricity and help power their building. Exercise and Eco Enthusiasts all over the world began ordering the unique invention to use in their homes and gyms. It turns out Adam was not alone in the quest to find a simple way to make the world a better place and get in shape at the same time. After Hurricane Sandy, Adam was contacted by a representative of the New York City Mayor's office who was exploring ways to help people without power for long periods of time to at least charge their cell phones.
Adam and his gym have been featured by CNN, BBC, Entrepreneur Magazine, Fitness Magazine, Club Industry and Club Solutions Magazines, Popular Science, and countless green bloggers. With the amazing publicity and interest Adam was experiencing, he started  talking to investors, applying for patents, and co-founded a company called Re:Source fitness that put out the first Plugout Spin Bikes and Ellipticals. However, the green fitness market wasn't quite ready in 2010 to support an early stage startup, and Plugout stopped offering equipment in 2011. Undeterred, Adam continued to develop his equipment, finding simpler and better ways to go green, not only with equipment, but also by creating an energy saving culture in his gyms.
The Green Microgyms use about 85% less electricity and their carbon footprint is about one tenth that of a traditionally run gym, per square foot. A member of The Green Microgym saves about ¼ ton of carbon compared to if they belonged to a traditional gym.
Adam's latest invention, the UpCycle Ecocharger makes turning your own bicycle into a human power generator as easy as replacing your back wheel! You can plug it into a normal wall outlet and help power your building. And, maybe more importantly, when the power goes out, you can keep your phone and laptop computer going.